This is CHEERS !
CHEERS makes wine drinking fun & affordable and we love to make our customers smile!
We sell imported quality wines at the best possible prices in our CHEERS Stores throughout Beijing as well as in our franchise partner stores throughout China.
We love to surprise and entertain our customers with outstanding customer service, our wide selection of videos, store themes and fun marketing ideas. We transfer wine knowledge on and off line in a fun, informal but professional way!
We aim for being extraordinary and to provide the best wines and services to our customers!
CHEERS MAKES YOU SMILE!  It's in our logo, our hearts and philosophy!
A concept with an international background since 1898 CHEERS Wines has set a benchmark in the Beijing wine market and is expanding fast to other cities in China.

Our Stores
CHEERS stores have a unique and distinctive design which reflects the welcoming, relaxed and informal culture of our company. CHEERS marketing develops monthly themes which brings constantly new excitement and surprises to the stores. We want our customers to treat the store as a "home away from home".
A place where customers meet friends, relax, try new wines with our daily free tastings and be educated on the wine lifestyle.

Our Wines
All of our wines are 100% imported from all over the world and over 90% of them are exclusive to CHEERS and to the Chinese market. Our team specializes in achieving exclusivity within the marketplace, meaning no other retailer can sell our products. We deal with suppliers and vineyards from across the globe, importing ourselves, through our in house logistics team.
Our prices start at 28.80 RMB for an imported bottle of wine and go up to 1,500 RMB – the best price value wines the Chinese wine retail market has to offer.
We have amongst our selection award winning wines from multiple competitions as the CWSA, Berliner Wine Trophy, G100 wine competition, amongst others.
Additional to our wine assortment we offer spirits, beer, soft drinks and accessories.

Our Customers
Our customers are the new wine generation. Trendy, open-minded and independent Millennials who started to get to know the wonderful world of international wines.
A curious community, eager to discover different tastes and cultures. Between work and home, friends meet at CHEERS to have a drink and catch up with daily gossip.
The CHEERS community around the store meet regularly for the Mini Wine School and discuss the newest arrivals of wines. Wine drinking has become fashionable, trendy and it's the new MUST to know how to talk about, and behave, with wine.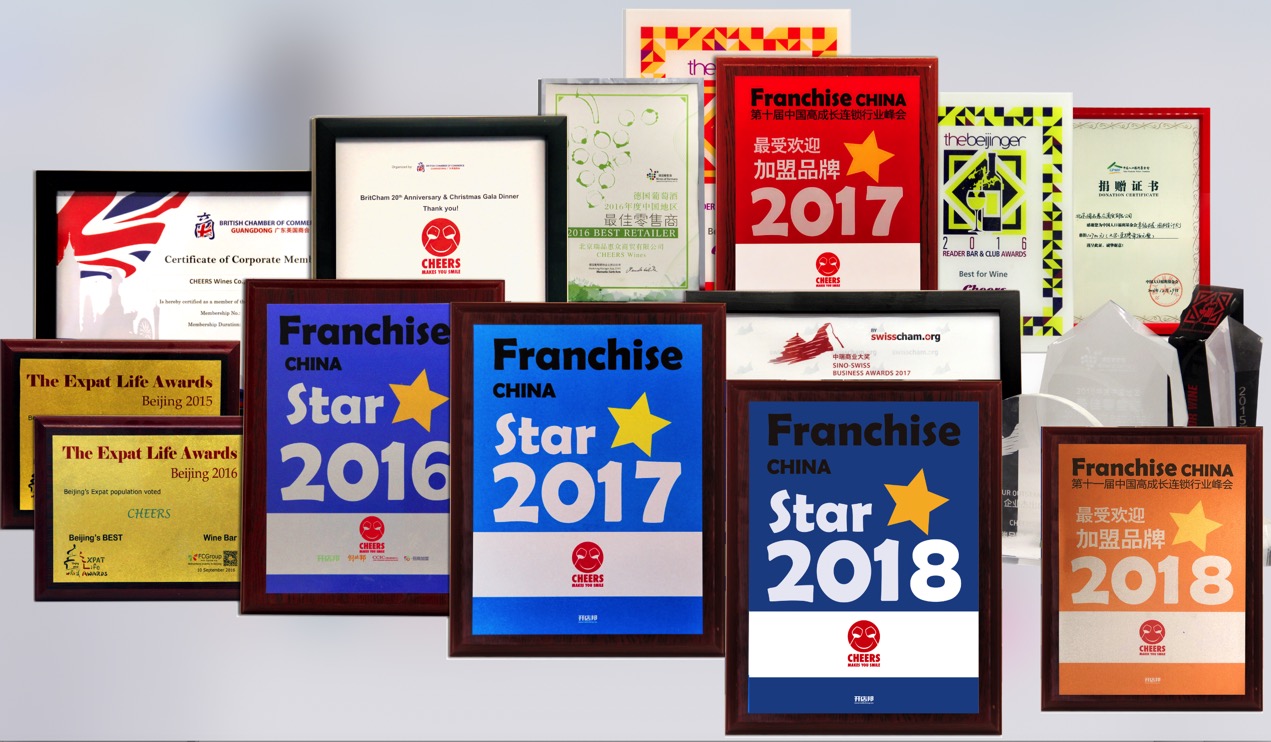 Our Awards
Every year the Entrepreneur's Franchise 500® selects the companies with the most potential and awards them with a star. The selected companies work with a franchising system to grow in the market. CHEERS was awarded with "The most potential Star in 2016/2017 and 2018" and "Most liked franchise" recognizing the hard work, dedication and spirit of the company.
CHEERS Wines was awarded with the Entrepreneur Outstanding Achievements. The objective of the Sino-Swiss Business Awards is to honor companies and individuals who have achieved distinct results and demonstrated the highest level of commitment to the Swiss-Chinese community.
We have also been chosen as "Best for wine" by the The Beijinger Bar & Club Awards, "Best Wine Bar" at the Beijing Expat Life Awards, "Best wine retailer" by the Wines of Germany association.