Become your own boss
with cheers!
Dreamed of running your own retail business ?
Have you ever wanted to be your own boss ?
Well, now you can ! You can be the boss of your very own CHEERS retail wine store . CHEERS is famous for bringing high quality imported wines to China, making wine drinking fun and affordable .
Franchising Hotline:
400-005-5500
A Fast Growing Market driven by Young Drinkers
China's wine market is growing fast. It's assumed that China will be the second biggest wine consumption market in 2020.
The youngsters have discovered the lifestyle of drinking wine. The well-informed generation sets value on good price quality wines, especially as there are still 70% fake wines on the market.
CHEERS has gained trust with its wine and concept and is growing fast together with its market.
8 reasons to become a CHEERS Franchisee
Fast growing wine market!
Successful and award winning concept and wines
Swiss Owners are in the wine business since 1898
Brand Leader in the Chinese wine retail world since 2011
Extraordinary good reputation
Best price/value wines from all around the world
Intensive support from the head-office
Working in the wine business is the best job ever!
Franchise Award
Every year the Entrepreneur's Franchise 500® selects the companies with the most potential and awards them with a star. The selected companies work with a franchising system to grow in the market. CHEERS was awarded with "The most potential Star in 2019" and "Most liked franchise by the public" recognizing the hard work, dedication and spirit of our company.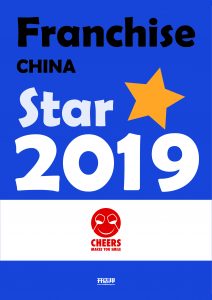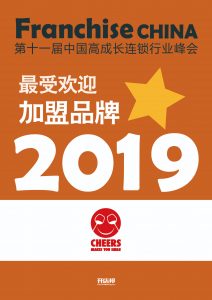 We'll be with you
As one of our Franchise Partners, we offer you an amazing amount of benefits.  You can rely on every single one of our dedicated head office team members, who are always there to help guide you, train you and work with you to bring success.
LISA WU – CHEERS store owner in Shine city mall, Beijing Became a CHEERS store franchisee
"I am very happy to be a CHEERS store owner. From day one CHEERS supports me with training so that my knowledge of wine and running a business gets better and better. Customers love the CHEERS concept and more and more of them visit my store to enjoy the exclusive wines. Thanks to CHEERS I have quickly started to make a profit and I am confident all my initial investment will be recouped within the first year."
ROGER ZHAO / STEVEN WANG – CHEERS store owners in Topwin Center, Beijing Became a CHEERS store franchisee
"At CHEERS I have learnt how to manage my store, the brand culture is excellent and I am deeply touched by the CHEERS member's kindness and warmth. In the dull and boring daily life, CHEERS is full of energy and passion and always makes customers happy. I believe that through continuous efforts and serious attitude, we will create unlimited value and more joy!"
9 Steps to success
We offer you a turnkey package, it couldn't be simpler, find your location and let us do the rest!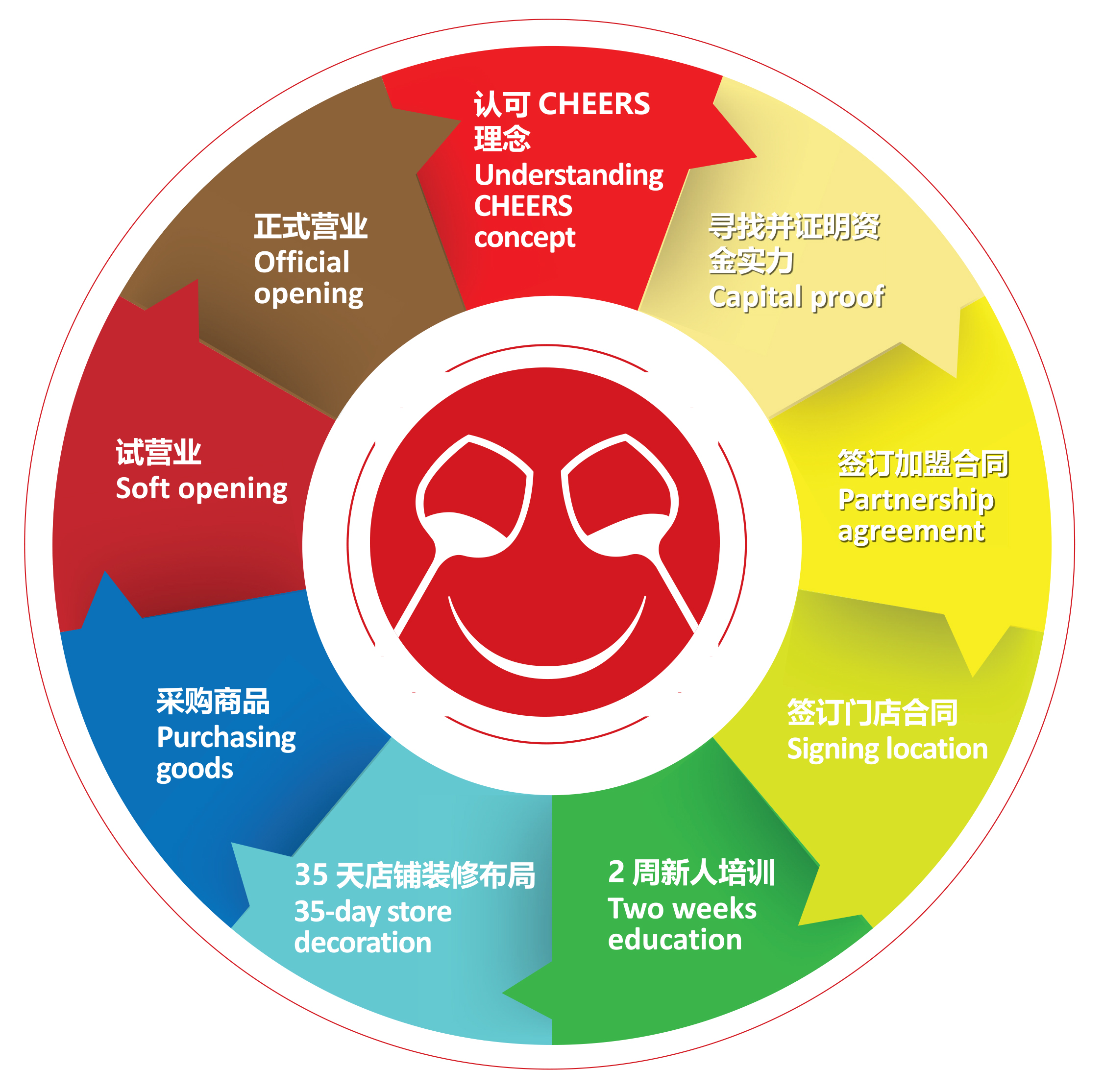 Contact us for further details and we very much hope to welcome you into our CHEERS family.
Franchising Hotline:400-005-5500
After completing the application information, our team will get in touch with you within 3 to 5 working days.
Become a Franchisee
Inclusive Benefits
Turnkey Package
Comprehensive Training
Lifetime Commercial Support
Access to Wine and Industry Experts
Full Design Process
Location Search Support
Lifetime Marketing Support
IT System Provided
Dedicated Regional Manager